So we're now into July and we've already seen our first notable Major League Baseball trade:
Scott Feldman
from the Cubs to the Orioles. While these kinds of trades seem, on their surface, to impact traditional fantasy more than daily because a player is switching leagues, the implications do extend into this corner of the fantasy universe.  When picking players for your daily team, there are three primary considerations to be made:
1) How good is the player's baseline?
2) How does that baseline change given today's environment?
3) How does this context-adjusted baseline compare to the player's salary?
That very first step, establishing the baseline, can be affected rather drastically when a player is traded from one team to another and often even more so when a player is traded from one league to another.  I last looked at the
impact of switching leagues for hitters
and
pitchers
when I was writing for FanDuel.  Below are two charts that show how various stats change when a player changes leagues. (These results are to be read as if an AL hitter is moving to the NL, and you would simply take the inverse if you're looking at an NL player moving to the AL.)
Hitters Switching Leagues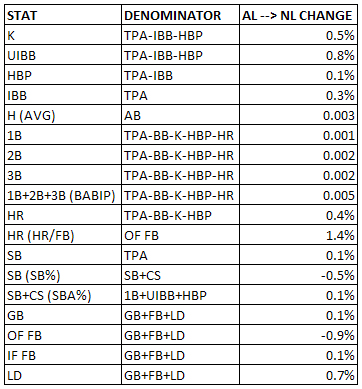 Pitchers Switching Leagues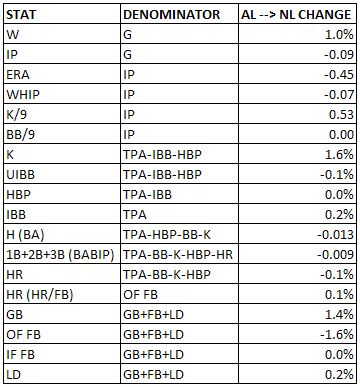 The impact is much bigger for pitchers, who lose a half-point of ERA with a move to the AL (thanks mostly to the use of the DH).  So if you thought that Feldman was a true 4.00 ERA pitcher with the Cubs, well, now he's a true 4.45 ERA pitcher with the Orioles (when facing an AL opponent).  Of course, his salary is going to be based heavily on his 3.43 ERA with the Cubs, making it difficult to justify selecting him to any of your daily teams regardless of how good the matchup is.
Keep this in mind as the next couple weeks unfold and players start moving around.
WHAT WAS
- In case you missed it over the 4
th
of July weekend because you were knee deep in margaritas and bikini-clad honeys, I posted an article examining each of the nine daily sites that we cover here at DFSEdge and
which site salaries are driven most by current season stats
.
-
Joaquin Benoit
gave up two hits last night but cemented his third save since taking over as Detroit's closer.  Seeing as he's outside the top half of closers in Fantasy Feud, price-wise, and is the second cheapest closer in
DraftStreet
games, he seems like a pretty good investment given what are probably top-10 closer skills.
-
Dan Haren
took the loss but looked pretty good in his return with a 7/3 K/BB in 5 IP with 2 ER.  I like him as a bounceback candidate, and the 6.00 ERA will only depress his salary.
-
Grant Green
debuted and went 0-for-3 last night.  His playing time is a bit in question, but that's more of a problem for traditional fantasy players.  For daily leagues, when he's in the lineup know that he's not an elite prospect but could still be pretty good with a solid batting average, not much patience, but a bit of power and little speed.
-
Scott Feldman
got obliterated in his Baltimore debut (L, 5.1 IP, 7 ER, 2 K, 1 BB).  He's better than that, but like I said, the move back to the AL and a hitter's home park won't do him any favors.  He's going to be overpriced unless he turns in a few more starts like this.
- My Daily Pitcher Pick yesterday,
Roberto Hernandez
, did just enough to kill you but was largely a disappointment in a no-decision against Minnesota: 6 IP, 8 H, 3 ER, 3 K, 3 BB.  Because this is such a glowing endorsement for my prognostication skills, I'll direct you toward my Twitter feed(
@DerekCarty
), where I put out picks like these every day.  And sometimes, for a change of pace, they're actually good!
- With
Stephen Fife
hitting the DL,
Chris Capuano
will remain in the Dodgers' rotation for the time being.  I really like Capuano, but he gets Colorado in his last start before the All-Star break, so best to avoid him until the second half, perhaps until August if he can stick around that long given LA's relatively tough schedule.
- Take note that
Brad Miller
has led off for Seattle the last four games.
WHAT IS
Event tip:
There's less than four weeks left in the qualifying rounds of the 2013 DraftStreet Baseball Championship.  They run qualifiers every Tuesday (hey, that's today!), Friday, and Sunday from May 3 to August 4, with those who qualify gaining entry to a Main Event that pays out $400,000 in prizes.  The top 40 spots will pay out with the winner taking home $100,000,
Contest tip:
Every Friday at
DraftStreet
, you have the chance to try out one of their alternate contests, the oh-so-fun Pick 'Em game, in a $300 free roll with the added bonus of competing against me.  Make sure you join with
this link
.
Life tip:
When a girl texts you at 2 a.m. with what the kids call BCI (Booty Call Implication), don't mess around texting for 20 minutes trying to figure out the logistics.  Instead, use the phone function of your phone (I know, what a novel concept).  This is especially true if the girl is only in town for one day, is really hot, totally wants you, is being coy about the situation, is a bit flaky, hasn't yet let you know where she's staying, and winds up falling asleep before you firm up plans.  This tip is alternately titled "Derek's Friday Night."
WHAT WILL BE
We're doing lists again this week. Woo-hoo!
Top 5 Pitchers for Today
Adam Wainwright, Home vs. Astros
CC Sabathia, Home vs. Royals
Dillon Gee, Road vs. Giants
Joe Blanton, Road vs. Cubs
Julio Teheran, Road vs. Marlins
Taylor Jordan, Road vs. Phillies (Bonus Pick)
You could flip Teheran and Blanton, maybe even bump Teheran up to third if you're playing on sites like
StarStreet
,
Daily Joust
, and
Fantasy Aces
, where current-season stats don't matter as much.  In leagues where salaries are heavily influenced by them, however, Teheran's too-low ERA makes him a lesser play despite facing the Marlins.
Jordan is a bonus pick for games where his salary is minimal due to his rookie status.  Not as good a bet as the others, but if he's dirt cheap, the potential ROI may make it worth rolling the dice.  I like the skills, and Philly's offense is underwhelming, especially now that
Ryan Howard
is out.
Top 5 Stacking Opportunities Today
Texas Rangers, Away vs. LHP Zach Britton
Cincinnati Reds, Away vs. RHP Wily Peralta
Seattle Mariners, Home vs. RHP Allen Webster
New York Mets, Away vs. LHP Barry Zito
Toronto Blue Jays, Away vs. Ubaldo Jimenez
Britton's sinker/slider arsenal gives him a huge platoon split -- those are the two most platoon-heavy pitches in baseball -- so Texas' righty-stacked lineup should do some major damage today even if they're on the road.  Plus, Camden Yards is still a solid hitter's park.  I like Britton, but he's better suited for a relief role where Baltimore can pick and choose his matchups.
Top 5 Most Underrated TV Comedies of My Lifetime
The League
It's Always Sunny in Philadelphia
Blue Mountain State
The In-Betweeners (U.S. Version)
Suburgatory
I don't consider Arrested Development to qualify for this list anymore, and the top two were in question, but I decided they were okay.  Blue Mountain State, though, is absolutely amazing, especially if you're a How I Met Your Mother fan and realize that Punchy created and stars in it.
Top 5 Most Overrated TV Comedies of My Lifetime
Family Guy
Friends
Two and a Half Men
Curb Your Enthusiasm
Seinfeld
But… but… Two and a Half Men is so raunchy and full of ha-has!  Maybe if you're 60 years old and grew up watching Lucy and Desi sleep in different beds.  In reality, it's lame, tame, and unoriginal.